We work with businesses of all shapes and sizes across a range of industries. While we sometimes work with micro-businesses and start-ups to support their future growth, the majority of our clients are established small to medium-sized businesses. Depending on their needs, we help them get their HR stuff in order, provide ad hoc support to address specific issues/projects, or provide more regular support and in effect act as their outsourced HR advisory team. For larger businesses with a level of in-house HR capability, we frequently provide HR mentoring support and/or provide consultancy support in relation to HR/people strategy and related projects.
Combined, the HR Success team have in excess of (gulp) 60 years experience supporting businesses and organisations with their "people stuff". If you'd like to know a bit more about us, check out the bio information below.
As for HR Success itself, we've been around since 2007 and while we're based in Western Sydney, we provide HR and recruitment support to a range of clients Australia-wide.
HR Success is a values-based business and every day the following values guide our behaviours and interactions with others:
We value every client we have, and we see ourselves as partners in helping them achieve their success. We recognise that each of our clients is unique, so as circumstances require, we take the time to understand, develop and deliver solutions to fit their precise needs.
We're committed to working with businesses and individuals to build capability. We work to equip our clients with the tools, skills, knowledge and confidence necessary to enable their own future success.
We work only with like-minded business owners and managers who consider their team integral to the success of their business, and who are committed to building engaging, productive workplaces. We work only with individuals who are committed to realising their potential and making a positive difference to themselves and others.
We're practical, experienced professionals focused on achieving results for our clients. If we can help you, we will tell you. If we don't think we can add value, we will tell you that too. The only surprises you will get from partnering with HR Success are positive ones!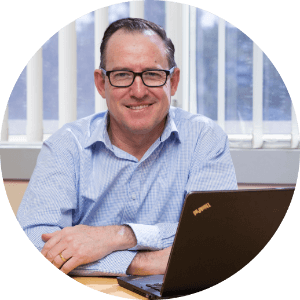 GREG MITCHELL
PRINCIPAL CONSULTANT & OWNER
Greg has extensive experience in senior HR and organisational development roles across a variety of industries in both the private and public sector. Prior to founding HR Success in 2007, Greg held roles including Executive Director of Human Resources for Catholic Health Care Services and HR General Manager for the Forestry Corporation of NSW.
Greg's experience is supported by a Masters in Social Ecology, a Postgraduate degree in the Management of Organisation Change and a Bachelors degree in HR Management. Greg is a Chartered Member of the Australian Human Resources Institute and also the Deputy Chair of the Schools Industry Partnership, a not-for-profit organisation, helping young people in Western Sydney to transition from school to work.
In his spare time, Greg's an avid sports fan (watching and occasionally playing though knees are a bit dodgy), a keen gardener, book-lover and an amateur zythologist (give yourself a pat on the back if you know what that is, otherwise ask him, or look it up, and cheers!)
MARGOT GALLAGHER
SENIOR CONSULTANT
Margot is a highly pragmatic, passionate HR professional with over 25 years experience across a range of industries, including local government, not-for-profit, retail and entertainment. Over the years, Margot has worked in leadership roles with teams as small as six through to large multi-national teams of around 3,000. Prior to joining the HR Success team in 2017, Margot held roles including Senior HR Manager and then General HR Manager at Aristocrat, Training Manager for K-Mart and Employment Relations Consultant for Clubs NSW.
To supplement her HR qualifications, Margot has completed a Bachelor of Counselling (Coaching) and is currently undertaking Masters level study. Margot thrives on watching a team develop as a whole and then seeing the ripple effect of this on the performance of the business.
In her down time, Margot enjoys reading, baking (the result of watching too much reality TV during lockdown!), travelling, sprucing up her garden and getting together with friends.
JADE DALEY
HR/RECRUITMENT CONSULTANT
Jade is the most recent member of our team, having commenced with HR Success in March 2023. Jade is a skilled HR professional who brings with her around 10 years of HR and recruitment experience gained within a variety of industries, including healthcare, logistics and small business.
As a professional member of the Australian Human Resources Institute, Jade believes that employees are the engine of the businesses/organisations in which they work, so cultivating cultures in which they can thrive is critical to business success. Enhancing the employee experience and developing positive workplace cultures, starting with the recruitment process, is a key area of professional interest for Jade.
When Jade isn't supporting our clients, she can be found playing hot wheels and monster trucks with her young car-obsessed sons (although she doesn't mind as she is just a little bit obsessed with cars herself!).